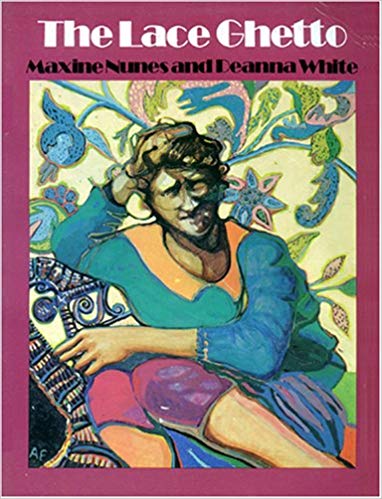 By Casey O'Connell
The Lace Ghetto was co-authored by Maxine Nunes and Deanna White and published in 1972. Born out of the research for an acclaimed television series, "Women Now," that the two developed at the Canadian Broadcasting Corporation, this book traces the historical and existential conditions of inequality and oppression that were fueling the women's movement. The ten chapters cover topics such as "Socialization," "Fashion," "Sexuality," "Marriage," "Motherhood," "Consciousness Raising" and more. Drawing on extensive interviews with both women and men, the book devotes substantial space to these voices, contradictions and all. Interspersed throughout are quotations from feminist texts, but also images from comic strips, advertised beauty products, newspaper headlines, movie posters, drawings and photographs. Together, they form a cacophony of popular cultural elements that was surely ground-breaking as a critical method to capture public consciousness.

The book lays out what have since become accepted truisms in feminist work, primarily that women are socialized to see themselves through others', especially male, eyes. Still, the harshness of some of the quotations from both ancient and contemporary figures has lost none of its bite and relevance. From Aristotle's "The female is a female by virtue of a certain lack of qualities. We should regard the female as afflicted with a natural defectiveness," to John Lennon's "Women should be obscene and not heard" — the pronouncements are staggering in their misogyny.

There is a fascinating chapter on women's struggle to win the vote in the early years of the twentieth century. The authors detail some of the differences in strategies adopted by women in England, the U.S. and Canada in this long fight, with women suffragettes in England resorting to civil disobedience and then militant action, while Canadian women were less explosive in their tactics. Regardless, the struggles were complicated by some women's own fears, so that, as the authors predicted, bringing about changes in attitude and self-esteem on the part of women can be a long and painful process as well.

Much more can be written about The Lace Ghetto, but it is a book to be savored, as it is packed with wisdom and a sense of inquiry. Because of its open format, we are able to get a snapshot of a charged moment in time, as well as ponder the deeper issues of human dignity and freedom that are more than ever relevant now. In a Postscript, Nunes and White note that they are unable to draw a sweeping conclusion from the wealth of data that they have collected and the numerous texts they have meticulously pored over. "Once the myths of "femininity" are destroyed, woman assumes a new burden, that of freedom. Following through on self-discovery is not easy (p. 152; emphasis added). It never is, but that, the authors suggest, is no reason to give up.


"There was no internet back then so researching meant pouring through tons of library books and scrolling through newspapers."


-Maxine Nunes
After its publication, Maxine and Deanna toured the book and got plenty of publicity. The book had three printings and was even taught in Universities.