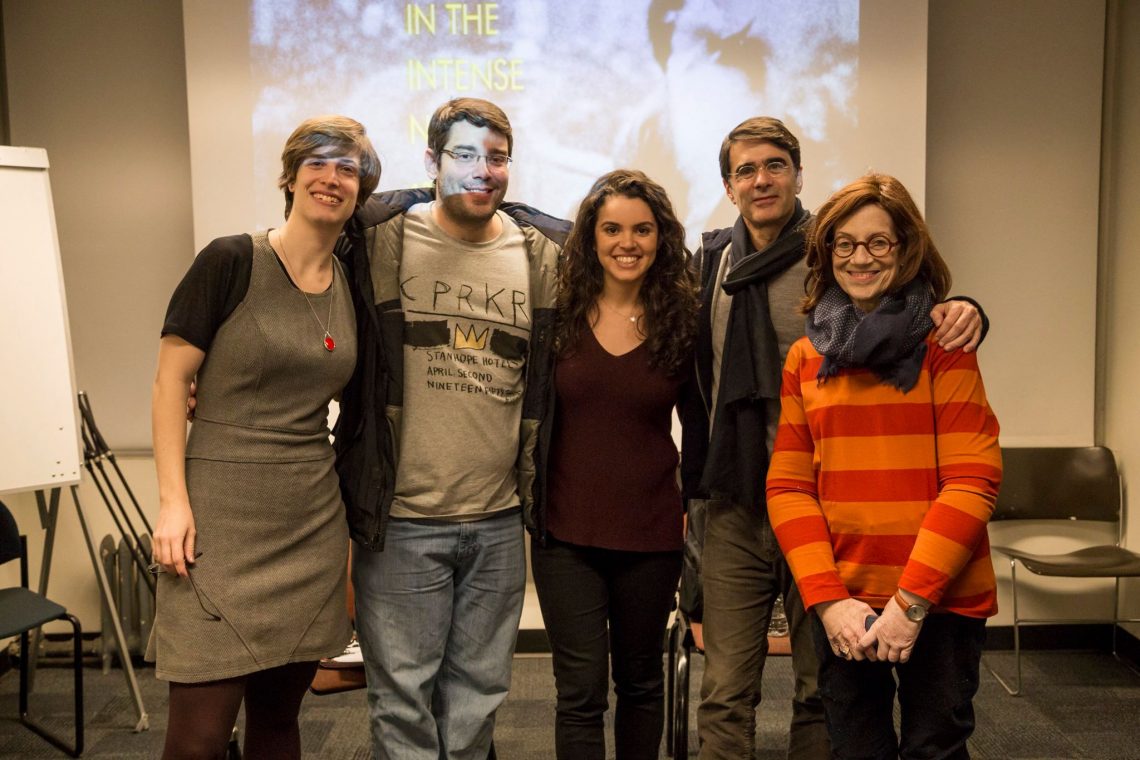 By Joy Ernanny
My name is Joy Ernanny, and I am from Rio de Janeiro. I am a news program and documentary producer at GloboNews, a 24-hour news cable channel in Brazil. I attended The New School, Doc Studies program, from 2017 to 2018. The program made me want to transition from TV to the big screen, and work exclusively with independent documentaries one day.

Deanna was the Doc Studies program director, and I was both her student and teaching assistant. During the spring semester, she invited me to TA for one of her master level classes, "Directing Documentaries." We had a deep connection from day one – probably because we are both journalists with a background in TV news. We quickly identified we had a similar eye for detail and passion for discovering new things.

Her passion for the craft was absolutely inspiring. The way she laughed, clapped and cheered upon seeing a fantastic scene – even if it was a work in progress – pushed everyone in the classroom to want to do more and create meaningful work.

Coming from a news background, what I learned from Deanna that really made a mark in my career is that you don't have to tell the audience everything. You have to leave enough room to make the audience feel intelligent! In addition, while editing my short doc, she told me I had to fall in love with every frame – which means they are all there for a reason and make the story move forward. She opened my eyes to the wonders of Agnès Varda, Frederick Wiseman, the Maysles brothers and so many other inspiring makers whose films revealed to me possibilities of what I could do with mine. After graduating from Doc Studies I have gone back to the newsroom but have taken all of this with me.

One time she gave us for homework an exercise where we had to describe (in words) a scene of our documentary – this is before most of us even started shooting. It is quite challenging, but it forced me to really begin thinking about both the content and the esthetics of my film. These are some of things I took with me and consider everyday, even when working with breaking news.

As a program director, Deanna lived and breathed our pieces. In my year there were 11 of us, and I could tell how much she cared about each and every one of our projects. If there was anyone who was falling behind, she would be by the person's side. She would come in on Saturdays to edit with us, even when she was feeling ill.

I also very much admired her curating skills. It is not easy to create a syllabus for such a short two-semester program, and she curated the film selection in such a way that upon graduating I really felt I had a good grasp of where documentary came from and where it is going towards. This is quite a challenge and she nailed it.

Days before Deanna's passing she called me after reading an email I had sent to tell her I was having a problem with my visa and would have to quickly move back to Brazil. Needless to say, I was very upset and angry. With a very frail voice, she gave me so much strength and encouragement with a simple phone call. It filled me with energy to move forward and rise tall again. It was impressive to see how a person who was dealing with a very serious health issue, and who had just recently left the hospital, could be so strong and offer so much encouragement!

There is so much to thank her for. But if I had to say ONE thing, it would be to thank her for choosing my film "Unveil" to open the Truth Be Told Festival (2018 edition). I hadn't finished editing my short when she told me her choice, and this gave me a boost of energy and encouragement to reach beyond my grasp to finalize the film. At the same time, her decision was also a seal of approval. I trusted her and knew that if she had chosen mine, it was because it was a promising piece.

Thank you, Deanna, for inspiring your students to go the extra mile and reach for excellence. Thank you, Deanna, for being such an inspiring professor, and having become my friend in what was the best year of my life yet.