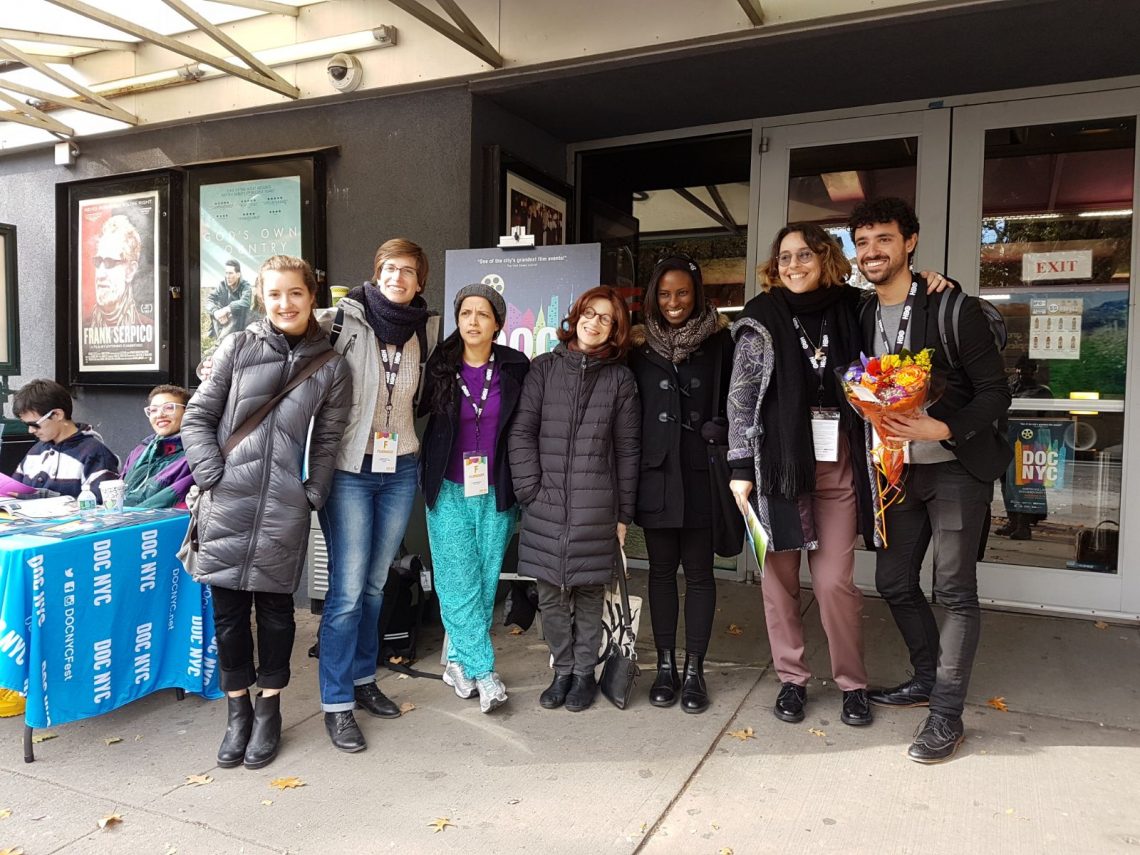 By Inés Vogelfang
It's been about 7 months since Deanna passed away. [The article was written earlier this spring – editor]

This event found me, luckily, surrounded by my partner and close friends, since I was filming with them in upstate New York for the weekend.

It was a Sunday morning, my friends and I had woken up at 5 AM to shoot at a waterfall near the house where we were staying. When we got back to the house, the news about Deanna's passing had made its way up to Hudson, NY. Olivia was with me; she is my good friend and also a former student of Deanna's. I was directing and she was dp'ing, and we had one more scene to do in our shoot plan before heading back to the city.

We set up the shot, gave instructions to our actors, and as we pressed the REC button we hugged and cried.

I couldn't attend her Memorial at The New School in September either, so when I was approached by Sumita Chakravarty to make a piece for this issue's memorial I recollected these audios from former coworkers, best friends, former students and even my own family to show you what Deanna meant to all of us. And selfishly, I also accomplished something very important: I finally faced her passing.

As Deanna and I shared some complicity in Judaism, I decided to make an audio Shiva, to listen and share stories about a great friend, teacher, co worker, producer and mentor.

Deanna was one of the most complex people I will encounter in my life, so this is no attempt to capture all the layers of her, but just an attempt at painting a picture, with a collage of memories.

Here's a quote of Deanna when her film, "Maggie and the Men of Minnesota," premiered in 1984:

"I'll level with you, I have dared to ask these questions. In spite of my better intentions to be cool. I have raised these questions in mixed company for years, never thinking anyone would take me seriously. But someone did.

During a so-so game of pinball, my colleague, cinematographer Tom Adair, called my bluff. 'You should do a show about this man problem, if you're really serious about it.' And he added nonchalantly, 'What is public television for, if not for serious stuff?'

He had me there. Not wanting to be caught in a bluff, I responded, 'No problem.' Counting on the fact that surely someone down the line would stop me. But no one ever did."

I'm thankful that no one ever stopped her, and that the course of years allowed her to become such an inspiring figure in our lives, and a true champion of Documentary film for all of us in the community.
I would like to thank the contributors to this piece:
Rafael Bergamaschi
Iris Cahn
Alicia Killner
Stephen Galgano
Toma Peiu
Kristin Sztyk
Gerald Richman
Cristina Muller